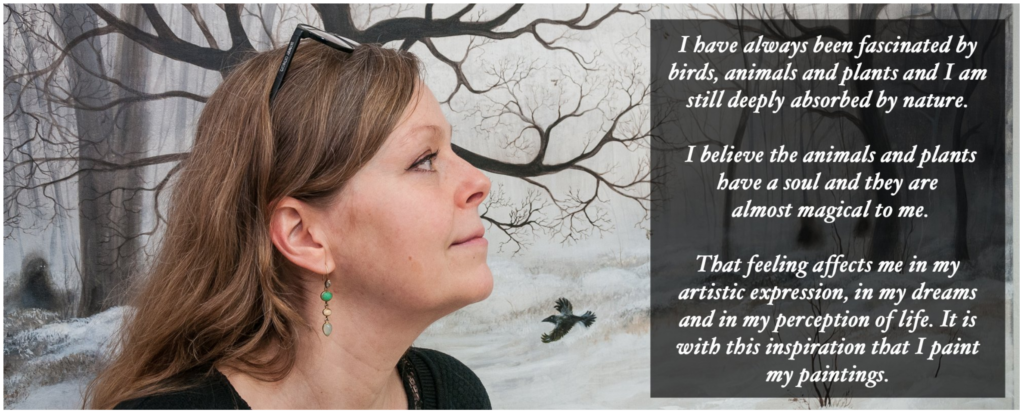 Editor on danish art magazine Kunstavisen and art critic on danish newspaper Jyllandsposten, Tom Jørgensen, writes the following about my art:
"Lisbeth Thygesen.
Dreams and fables. These are the two key words when describing Lisbeth Thygesen's visual world.
The dreams are her own. What we see in the pictures, and the stories we can deduce from them, is rooted in her dreams. Dreams that only appear in their entirety when the individual image is painted. This is a completely unconscious process.
Fables are tales with animals in the lead roles. Animals that have human characteristics and express human emotions, concepts and philosophies of life. The two best known fable storytellers are Aesop and la Fontaine, but Lisbeth Thygesen's fables are deeply personal and come directly to her through her dreams.
Looking at the paintings, you discover two things. First, many of the animals and creatures have eyes placed around the body. Here one immediately comes to think of the Third Eye, which is the eye of cognition in Buddhist philosophy of life, from which one can look back into the past and into the future, but most importantly: see through and acknowledge life as suffering. A necessity to open the eye through meditation and practice. Thus, the Third Eye has to do with wisdom and recognition.
The other thing we immediately notice is Lisbeth Thygesen's landscapes. This is the Nordic nature with deep, dark forests and with colors characterized by being subject to the seasons changes.
In this landscape and scenery we see bears, foxes, badgers and ravens, but also decidedly imaginary creatures. Lisbeth Thygesens art is based on the characteristics of the individual animal: the strong and extremely protective mother bear, the supple and agile fox, the smart raven and the shy badger living underground during the day and only coming out at night.
Lisbeth Thygesen paints the bear as a symbol of strength, courage and steadfastness. She might plant a budding little oak tree where the heart should be, to show that even the most humble and overlooked thing can grow big, strong and mighty. Not the only example of plant and flower symbolism by Lisbeth Thygesen. For instance she can place some beautiful purple fireweed in the hands of a badger's spirit. Fireweed, that in flower symbolism express courage, humanity and protection, correspond well to the badger's both literal and symbolic groundedness.
On the whole, many of Lisbeth Thygesen's paintings revolve around the necessity of being able to rest deep within oneself and dare to take the leap forward, upward and inward towards wisdom. About the necessity of reaching a self-insight, for only then can one come into harmony with one's surroundings, with nature, the world and everything. 
In other words, if Lisbeth Thygesen's skilfully executed paintings are rooted in personal experiences and personal dreams, their message is universal and existential."
– Tom Jørgensen
Artist statement:
I have a great love of nature. I am very fascinated by how nature can lift us, our mood or energy, by how many people almost intuitively know that eg. a walk in the woods can make your mind fall into place and make your mood better or more calm.
I am interested in digging into what nature does to humans, what is the relationship between us and it? What is the relationship between humans and animals? Are humans just humans? Are there parallel universes? Are plants and animals animated? Are all things animated?
I am deeply interested in what is inexplicable. That which in itself is not evidence, but which forms patterns across the globe, where people talk about the same experiences. The mysterious that could be a law of nature, but that we just don't know yet.
That which constantly inspires me, is my own experiences, from childhood to now, in nature, in dreams, in dream visions and dream travels. My experiences are in the form of visions, things I hear, or physical, such as feeling energy flowing. I think a lot about why it is that so many people do not have these experiences themselves, and I'm passionate about finding out how I can give others a little insight into a magical world that they may have forgotten lies just at their feet.
Artist Biography:
Lisbeth Thygesen was born just south of Copenhagen, Denmark in 1973. She lives and works in Frederiksberg, Copenhagen.
As a child she spent most days in the nature in both Denmark and Sweden. The Scandinavian nature made a big impact on her and her imagination and she has always been fascinated by birds, animals, trees and plants, not forgetting to mention the imaginary creatures, that she fantasized were hiding out there behind the trees and in the shadows. These creatures have, over time, developed and are taking more and more place as characters in her landscapes, sometimes accompanied by Nordic wildlife and/or humans. She is, as an artist, deeply absorbed by nature and it greatly affects her artistic expression, her dreams and her perception of life. Her paintings lead your thoughts into dreams, folklore, spirituality, magic and the Nordic and Scandinavian great outdoors and wilderness, and even though the setting is the nature of Northern Europe, her narrative is in a language of the subconscious and therefore understood and related to across culture.
Her intent as an artist is to make people focus on their greatest potential and possibilities by remembering or awakening a recognition of the beauty and magic of life.
She has studied art history at the University of Copenhagen and also has a bachelor degree in social education, where here main focus was aesthetic learning processes. These studies gave her a theoretical background in her art practice, but technically she is a self-tought artist. Most of her work is acrylic on canvas, where she uses a glazing technique to create vibrant color and depth, but she also works with watercolor and drawings as well as sculpture and ceramics.
Theodor Kittelsen, Caspar David Friedrich, J.F Willumsen and Frida Kahlo can be mentioned as artists, that has had an impact on her.
Lisbeth has exhibited in several galleries, solo as well as group shows, art associations and art fairs in Denmark, Sweden, Germany and Spain. She had her debut at one of the 5 major nationally recognized censored exhibitions in Denmark, "The Artists Censored Easter Exhibition" in 2018, where artists from all over Denmark, but also international artists, apply. She had 3 works accepted out of a total of 29. In 2018 she also received the "public favorite award" at another major censored exhibition.
Written about her art:
"In a world where everything is measured, weighed and dissected, visual artist Lisbeth Thygesen moves behind that which is seen with the naked eye and invites us into a place where there is more between heaven and earth. She works with the unexplainable right under our nose, behind our closed eyes and deep in our dreams. All this she depicts, in her magical and stunningly beautiful art, where she, in extensive detail, paints birds, animals, plants and people connected in a wealth of details and symbols in dreamlike landscapes.
There is an alluring freedom in her works of art, in the play of light and shadow, and amidst the enchanting realities imbued with extreme detail, a sensory world opens up where that which nourishes the imagination gets to be studied."