"Key words to describe my visual world."
"Nøgleord til at beskrive min visuelle verden."
I'm very thankful for your interest in my art, and that you've found your way here to my web shop.
I am, as you might know, a Danish artist based in Frederiksberg, Copenhagen, Denmark. I have many national as well as international customers.
I have tried making it as easy as possible to shop my art here. That also means I have written most of my texts in both English and Danish. I hope it will not add to any confusion. I'm just trying to keep everyone happy. 🙂
Thanks for being here, it means a lot to me that I can share my art with you.
Much love, Lisbeth
Jeg er meget taknemmelig for din interesse i min kunst, og for at du har fundet vej her til min web shop. 
Jeg er, som du måske ved, en dansk kunstner, som bor og arbejder på Frederiksberg. Jeg har mange kunder herhjemme, men også mange i udlandet. 
Jeg har prøvet at gøre købeoplevelsen her på siden så nem, som mulig også for mine udenlandske kunder. Det betyder, at jeg har skrevet det meste tekst her på siden på både engelsk og dansk. Jeg håber ikke det bliver forvirrende. Jeg prøver blot at gøre alle glade. 🙂
Tusind tak fordi du er her. Det betyder meget for mig at dele min kunst.
Kærligst, Lisbeth
"Each canvas takes me on a journey. I never know to where, and with whom, until the painting is finished. My art comes from a deep intuitive state. I tap in to my subconscious, my higher self, and my paintbrush just follows. When I'm finished with my art piece, there's a lesson for myself and for everyone else in it.
I believe that the role of the artist is especially crucial at this challenging and exciting time. I believe the world stands in front of momentous change, and that the role of the artist is especially crucial in helping guide humanity forward into new and positive ways of seeing and beeing. Through creativity we have the opportunity to transmute shadow and pain into visions of healing and wholeness. I especially wish for my art to awaken a love of mother nature and all of her creatures, as well as inspire to aspire for our greatest potential, kindness and love."
Danish/Dansk:
 "Hvert lærred tager mig med på en rejse. Jeg ved aldrig, hvorhen eller med hvem, før maleriet er færdigt. Min kunst kommer fra en dyb intuitiv tilstand. Jeg tapper ind i min underbevidsthed, forbinder mig til mit højere selv, og min pensel følger blot efter. Når jeg er færdig med mit kunstværk, er der læring i motivet for mig selv og for alle andre.
Jeg tror, ​​at kunstnerens rolle er særlig afgørende i denne udfordrende og spændende tid. Jeg tror, ​​at verden står foran store ændringer, og at kunstnerens rolle især er afgørende for at hjælpe med at lede menneskeheden videre til nye og positive måder at se verden på og at være på. Gennem kreativitet har vi muligheden for at overføre skygge og smerte til visioner om helbredelse og helhed. Jeg ønsker især, at min kunst skal vække en kærlighed til Moder Jord og alle hendes skabninger, samt inspirere til at stræbe efter vores eget største potentiale, venlighed og kærlighed."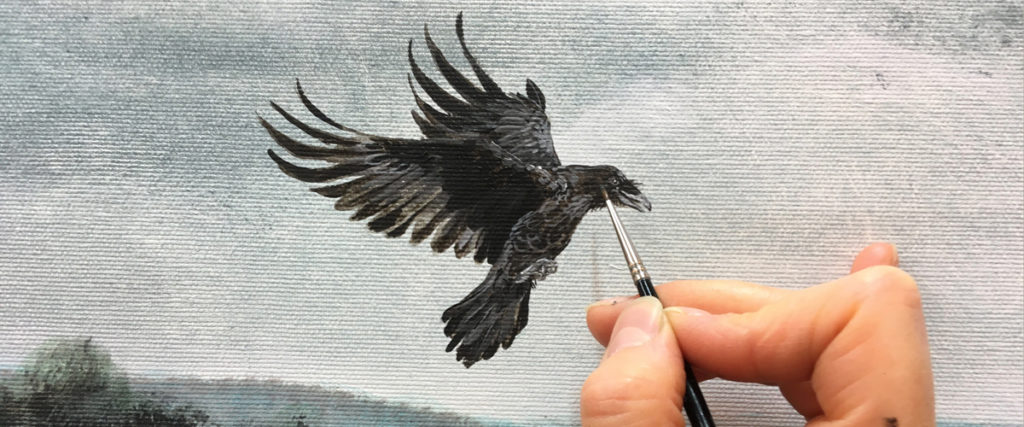 Interested in buying healing art for your home? See which art and prints I have available right now.
Interesseret i at købe healende kunst til dit hjem? Se hvilke kunstværker og tryk jeg har til salg lige nu.